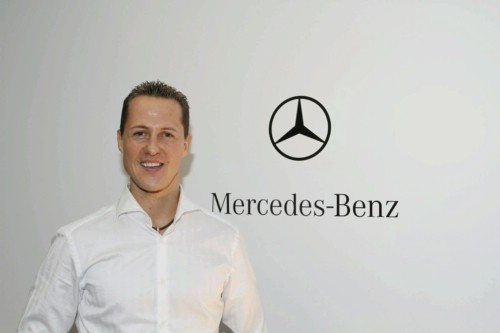 After a three year absence from motorsport's premier category, Michael Schumacher has agreed to come out of retirement to race for Mercedes in Formula 1 next year. Having made his debut in 1992 with JordanGP, Schumacher went on to win two World Championships with Benetton in 1993 and 1994, before moving on to Ferrari where he won five back to back titles in the early part of this decade. Winning seven world titles and 91 grands prix makes the German legend statistically the greatest Formula 1 driver ever. Schumacher retired from Formula 1 at the end of 2006, after a 14-year spell with Ferrari.
2009 Driver's World Champion Jenson Button left his BrawnGP team at the end of the season and signed for McLaren, as soon as BrawnGP were taken over by Mercedes. The other BrawnGP driver Rubens Barrichello had already been confirmed to have signed with Williams for next season. In his place, former Williams driver Nico Rosberg became the first driver to sign up for Mercedes. Since then, Schumacher had been linked with Mercedes but all sides remained totally silent on the matter.
After retiring from competitive racing back in 2006, Schumacher seemed to be pretty content with not having to deal with the pressures and tensions of racing in Formula 1. He had remained on the payroll with Ferrari, working with the Italian firm as a consultant. Schumacher did take time to enjoy karting every now and then, some Formula 1 test sessions with Ferrari and some testing in motorbike racing. However, when asked, Schumacher always said that he his happy with his life now which gives him the chance to spend a lot of time with his family, and has always ruled out a comeback to professional racing.
Back in the summer, when Ferrari's Felipe Massa had a terrible accident during the Qualifying session of the Hungarian Grand Prix, Schumacher was approached by Ferrari to come out of retirement and act as a temporary replacement until Massa is fit enough to be back. Schumacher took up the offer but had to cancel the plan in the last minute when his doctors said that his neck was not fit enough to take the strain of the G-forces that he will encounter in a Formula 1 car. The German injured his neck in early 2009 when he had an accident during a test session with a German superbike racing team.
Although the comeback plan did not materialise then, what it seemed to have done is relight the fire of competition and a passion for racing within Michael Schumacher. So at the end of November, when Ross Brawn approached Schumacher with an offer of racing with the backing of Mercedes, it was too tempting for the German to refuse. The team had won both the Constructors' and the Drivers' World Championships this year, they have some great people working for them including master tactician Ross Brawn - with whom Schumacher had won all seven of his titles - and on top of all that, they now have the full factory backing of Mercedes-Benz. So Schumacher is confident that he will have a fast car for next year, a car good enough to allow him to challenge for a record eighth world title.
When the comeback plans failed earlier in the summer, Ferrari president Luca di Montezemolo looked for other ways to get Schumacher back on the track. He even approached the FIA to let the team run an optional third car in certain races, to allow Schumacher to race again in Formula 1. However, it did not seem like Schumacher was quite up to make a full time return, and in any case, Ferrari had signed up Fernando Alonso and Felipe Massa as their lead drivers for the next few years. The pairing of Massa and Alonso offers better long term prospect to Ferrari than Schumacher, who is turning 41 years old in a few days time. Since the German now does seem to be ready for a full season of racing, di Montezemolo was happy to release Schumacher from his consultancy role at Ferrari to let him race for Mercedes. Between 2000 and 2004, Ferrari gave Schumacher some great cars and in return Schumacher gave back five World Championships, along with contributing to the Constructors's Championships as well. So in spite of the fact that he is now part of a rival team, Schumacher and Ferrari will always have a special relationship. As a Ferrari fan first and foremost, but also as a die-hard Schumacher fan, I genuinely thank him for everything he has done for Ferrari and wish him all the best for the future.
Schumacher says that the three year absence from the sport has given him back all the energy that he needs. He is absolutely ready to take on the challenge from much younger drivers such as Fernando Alonso, Felipe Massa, Sebastian Vettel, Lewis Hamilton and so on. His signing of a three year contract with Mercedes means that this is not just a one-off return, but another full three years of racing. So he might be the oldest driver on the grid, but he is statistically by far the best of the lot, and he comes back with a serious focus on a potential eighth world title. One thing is for sure, 2010 is going to be a cracker of a season!
It's just a little over a month to go before the teams start their pre-season testing in February. It is only then that we will get a good taster of what the different teams' cars are like. Until then, drive safely and a happy new year!