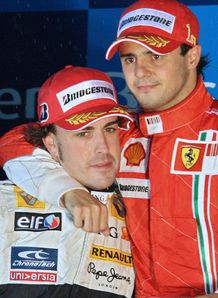 Almost nine months after rumours first broke out, Ferrari released a press statement yesterday at the Suzuka circuit confirming that they have signed a contract with Renault's double World Champion Fernando Alonso. Initially signed as a three-year deal, with options to extend it, this means that from the beginning of the 2010 season, Ferrari's driver line-up will be represented by the Latin duo of Felipe Massa and Fernando Alonso. Italian Giancarlo Fisichella will be the team's official reserve and test driver. 2007 World Champion Kimi Raikkonen will be leaving Maranello at the end of this season, one year earlier than when his contract was due to expire.
As I
wrote in a post
back in July, the rumours were first started off by Italy's much respected La Gazetta dello Sport newspaper. Their reporter Pino Allievi is known round the Formula 1 paddock to have strong contacts inside Ferrari, and more often than not any news reported by Allievi regarding Ferrari turn out to be true. As such, after this official confirmation, Alonso himself confirmed that his contract with Ferrari was originally signed as far back as the summer of 2008. However, the original contract had the Spaniard joining Ferrari only at the beginning of 2011. It is only that a mutual consent between Ferrari president Luca di Montezemolo, Kimi Raikkonen and Fernando Alonso that sees the Spaniard arrive at Maranello a year earlier than first planned while the Finn makes way for him.
Since winning the World Championship in 2007 in his debut year with Ferrari, Raikkonen has been seriously underperforming given that he is by the far the highest paid driver on the Formula 1 grid. His team mate Felipe Massa, on a much lower pay scale, has achieved more points and more race wins during the same time. Raikkonen was brought in to fill in the huge shoes of Michael Schumacher, who retired from Formula 1 at the end of 2006. Now replacing the legend that is Schumacher was always going to be a big if not an impossible task, but it can be argued that at the time there was hardly any one better for the job than Raikkonen.
The Finn always had a quiet and composed personality, never showed a lot of emotion and passion and adrenaline unlike most other racing drivers. What he had going for him, however, is his blistering natural speed. On his day, if he is motivated, he can easily be the fastest man on the track by a big margin. However, it is his motivation that has been called into question time and again over the last couple of years. Specially when the times are low, either because the car is not working well during a particular race weekend or he had a bad qualifying session for some reason that put him at the back of the field for the start of the race, the Finn would seem to have lost his motivation and drive. It is this lack of consistency that has perhaps been one of the reasons for his early departure from Maranello. What Raikkonen seemed to have lacked compared to his predecessor Schumacher was the ability to draw the team around him and pull them up during the bad times.
Raikkonen seemed like the kind of person, who if possible, will turn up on the day, drive some blistering laps if given a good car, and will go back home with no questions asked. What Ferrari wanted was someone a bit more Schumacher-esque, someone who would work extensively with the engineers and the team in general, to give good feedback in order to help in the development of the car and also to ensure that the car suits his driving style. They possibly wanted someone who will be as involved and as passionate about racing as the Ferrari family are. That is possibly what Alonso has going for him.
As the most successful active driver on the Formula 1 grid, with two Drivers' World Championships and 21 Grand Prix wins, and also as the only active driver to have beaten Michael Schumacher to win the World Championship, Alonso does not have anything to prove as far as talent goes. The difference with Raikkoen, it seems, is that Alonso is a very consistent driver. Even if he is having a bad race weekend, or has a hugely underperforming car, he will push his absolute maximum to get the most out of the car. Of course, given a car that is fast enough to win Championships, he can beat anyone on the track, and he has proven it by beating Michael Schumacher two years back to back. What is also important is that Alonso looks like the kind of person who gets very involved with the team and the engineers, and helps out a lot in terms of giving feedback to aid car development, something which Raikkonen seems to lack. The Spaniard is perhaps someone Ferrari should have originally gone with to replace Schumacher.
"We are very proud to welcome to our team another winning driver, who has demonstrated his amazing talent by winning two world championships in his career to date," said Ferrari team principal Stefano Domenicali.
"Of course, we wish to thank Kimi for everything he has done during his time with Ferrari," said Domenicali. "In his first year with us, he managed to win the drivers' title, thus making his contribution to Ferrari's history and he played a vital role in our taking of the constructors' title in 2007 and 2008.
"Even during a difficult season like this one, he has demonstrated his great talent, with several good results, including a great win in Spa and we are sure that we can share more good times together in the final three races of this season."
In the same Ferrari press release, Raikkonen said: "with common consent, we have agreed to terminate the contract binding me to Ferrari to the end of 2010, one year ahead of schedule."
"I am very sad to be leaving a team with which I have spent three fantastic years, during which time I won plenty of races.
"Together, we have won 50 per cent of the world titles in that period and I managed to take the drivers' title in 2007, thus achieving the target I had set myself at the start of my career. I have always felt at home with everyone here and I will have many happy memories of my time with the team."
It is not yet completely clear what will Raikkonen be doing in 2010. He said during the Thursday press conference at Suzuka that he may even decide to quit Formula 1 at the end of the current season. The rumours say that it is more likely the Finn will be making a return to his old team McLaren-Mercedes. The Woking based team is clearly unhappy with their driver Heikki Kovalainen, and will be very eager to replace him with compatriot Raikkonen to partner Lewis Hamilton. Raikkonen spent five years at McLaren before coming to Ferrari, and although he never got on very well with then boss Ron Dennis, it seems like he will be much more at home with the current McLaren team principal Martin Whitmarsh. Besides, Norbert Haug, president of Mercedes-Benz Motorsport, who own 40% of McLaren, was openly full of praises for Raikkonen during the Singapore Grand Prix weekend. It will be interesting to see how McLaren handle two World Champions in the same team in the form of Hamilton and Raikkonen. Last time they were in a similar situation was 2007 with Hamilton and Alonso, and we all know that did not end very well. However, it has not been confirmed yet whether Raikkonen will really go back to Woking or not.
The Alonso-Ferrari announcement seems to have broken the deadlock in the drivers transfer market. Williams' Nico Rosberg is tipped to join BrawnGP alongside Jenson Button. The Brackley based BrawnGP is set to become a Mercedes works team, as the German car manufacturer is likely to buy a big equity stake in the team. In his place, Button's current team mate Rubens Barrichello is likely to go over to Williams to partner rookie Nico Hulkenburg, who won the GP2 championship this year. BMW's Robert Kubica will probably end up in Renault to replace the outgoing Alonso. Some rumours suggest that Toyota' Timo Glock might end up partnering Kubica at Renault. All these rumours will start clearing up between now and the end of the season in November.
As a Ferrari fan, first and foremost I have to thank Kimi for his services these three years. He won the Drivers' World Championship with us in 2007 and helped us clinch the Constructors' title in 2007 and 2008, and that will definitely put him down in the history of Ferrari. Michael Schumacher's shoes were never easy to fill in, but we have to be grateful to Kimi for all the good times and memories provided. I genuinely wish him all the best for his future.
Moving on, I am very excited about the prospect of next year. Fernando Alonso is definitely one of the best drivers in Formula 1 at the moment, if not the best. Felipe Massa will be very eager to fight for the Championship once again coming back from his accident and the slightly disappointing end to the 2008 season where he lost the title to Hamilton by just one point. The pairing of Alonso and Massa looks to me like a formidable one. On top of that, given that Ferrari started the development of their 2010 car very early in this season, I can see no reason why the Scuderia should not be back at the top of the grid fighting for the Championship again next season. From Maranello in northern Italy, looking towards our main rivals in Woking in Surrey, south-east England, McLaren-Mercedes also looks pretty strong for next year assuming they have the line up of Hamilton alongside Raikkonen. So I think we could be set for some epic battles next year, roll on 2010!
Before I sign off, just have to say, welcome to Maranello Fernando! It is great having you with us, and we all hope to make it a fruitful and lasting partnership. Good luck to Fernando and Felipe for 2010.