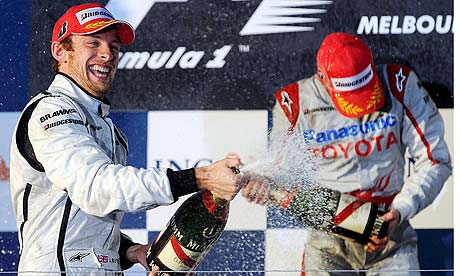 Well what a race weekend we have just had at Melbourne for the season opening Australian Grand Prix. As I have said in my previous post, the anticipation was immense coming into the start of the season this year due to not only the new regulations, but also the drama we saw regarding Honda Racing pulling out of Formula 1 last year, then their management led by the former Honda Racing's team principle Ross Brawn bought out the team just three weeks before the start of this season. Ross Brawn then renamed the team as BrawnGP and re-signed the two drivers who drove under him at Honda last year, that's Britain's Jenson Button and his Brazilian team-mate Rubens Barrichello. When Honda Racing pulled out at the end of last season, citing the economic crisis, they had already developed their car for this new season, but Ross Brawn needed an engine supplier for his cars as Honda being a road-car manufacturer used their own engine. That's when Mercedes-Benz came to the rescue and BrawnGP started the season as Brawn-Mercedes, as classified by the FIA.
During the final phase of the pre-season winter testing, the two Brawn-Mercedes cars led the field in terms of lap times, stunning everyone due to all the last minute preparations they've had, and still could get such pace out of their cars. In the three practice sessions in Albert Park, once again the Brawns were among the fastest cars on the grid, but this time Nico Rosberg in his Williams was the fastest in all three of the practice sessions. Ferrari had a pretty mixed session where they posted some good lap times and some mediocre, and particularly Kimi Raikkonen who was looking good also faced some technical issues for which he couldn't finish the complete practice sessions. Although Felipe Massa was looking great as well, he still wasn't quite a match for the Williams and the Brawns. Both the Renaults were also pretty ordinary, and although Fernando Alonso did look promising, his car didn't seem to have that extra edge to get him to win. And McLaren, as was anticipated, was simply lacking in pace compared to their cars last year and they have got a lot of catching up to do.
The qualifying session proved to be one of the closest qualifying sessions ever in Formula 1. As Eddie Jordan himself said that 'In all my years in Formula 1, I have never seen a more exciting qualifying session'. The top ten cars finished just outside one second of each other, that's how close it was! Of course with their pace, Brawn-Mercedes had a one-two on the grid with Jenson on pole. Red Bull-Renault's Sebastian Vettel was third with arch rival Robert Kubica in the BMW Sauber in fourth. Ferrari's Felipe and Kimi quailified seventh and ninth respectively, Fernando Alonso in the Renault qualified twelfth and Lewis in his McLaren qualified fifteenth as he could not take part in the final part of qualifying due to a technical fault with his car. That was fault was later found out to be a drive-train fault that required a change in gearbox, and this meant that Lewis would be starting all the way from the back of the grid as a penalty. Although he eventually started eighteenth, because the Toyotas who originally qualified sixth and eight were also given a penalty due to having a flexible rear wing, and so Jarno Trulli and Timo Glock started from the pit lane.
In the race, Jenson was leading comfortably all the way and never had any worries. He deservedly won the race in my opinion. His team-mate Rubens had a terrible start, because as soon as the lights went out, Rubens' car hit anti-stall and went into neutral which meant that it must have been a good couple of seconds before he could set off. The Ferraris had a very good start and Felipe was looking good for a podium finish when just about 10 laps or so from the chequered flag, he faced a catastrophic technical failure (most probably gearbox) and was forced to retire. Kimi was looking for at least finishing in fifth but towards the end he had a little accident where he suddenly lost control coming out of the corner, hit a barrier and then had to make an unscheduled pit stop to change his nose cone. This put him right at the back of the field.
Sebastian Vettel and Robert Kubica were racing in second and third when both of them were pushing for victories. When Kubica made a move on Vettel, Vettel wouldn't concede his position and while trying to defend ended up hitting Kubica and both of them crashed out of the race. This was only three laps away from the chequered flag, and due to the crash the safety car was called in. This is when Kimi also retired because by then there was no reason for him to finish the race anyway, specially with the safety car in. Trulli at this time overtook Hamilton just as the yellow flag was in, which was obviously a mistake, and so although he finished third he was later given a twenty-five second time penalty which saw Hamilton promoted to third instead. And in all this debacle, Rubens Barrichello was lucky and got the chance to correct the mistake he made earlier at the start and finished in second position alongside his victorious team-mate Jenson Betton, with his second Grand Prix win in a 152 starts. So the first race of the season finished under safety car conditions, and it looks like the championships this year can go to anyone.
And by the way, Round 2 which is at Sepang for the Malaysian Grand Prix is almost here and that promises to be another exciting race as well, with the threat of rain just spicing things up!